Message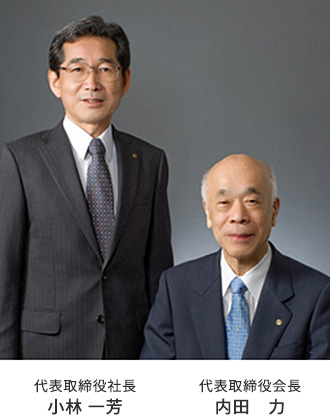 Tsutomu Uchida, Chairman
Kazuyoshi Kobayashi, President
Corona Corporation was established in 1937, and since then, taking the launch of the pressure type kerosene cooking stove as a starting point, we have grown as the leading manufacturer of kerosene heating appliances, by our developing a unique set of technological skills generating epoch-making products utilizing a wide range of ideas, which includes the kerosene combustion technology of the pressure type kerosene heaters, etc.
Based on these technological developments in the various fields of our endeavors, we established a prominent presence in housing equipment including kerosene water heaters and household appliances such as room air conditioners. Furthering our line of engineering developments, we have progressed to a company which offers a line of products that promotes comprehensive, comfortable home environmental health.
Now, for 80 years after our establishment, we have entered into a new challenge: to further deliver new, additional value to our customers. Or new, enhanced performance is the result of the greater confidence that we have accumulated from our formative years to more recent leaps in engineering developments, proven, reliable manufacturing capabilities and sales activities.
Following the spirit of our company motto "sincerity and hard work" since its establishment, we look to fulfill our customers' needs and establish a unique position as an integrated provider of comfortable, healthy products. We base the development of our products and services by our "appreciation and impression" on our customers' needs, comfort, and happiness.
As we continue to focus our attention on fulfilling our customers' lives and aiming to further improve our quality in meeting our customers' expectations,
we offer our customers:
-Safe, secure, environment-friendly products;
-Comfortable, healthy, spiritually fulfilling home environmental space;
-Convenient and economically efficient life;
Concurrently, our company motto (sincerity and hard work) leads us to continue to make further efforts in CSR (Corporate Social Responsibility) in consideration of promoting a healthy natural environment, contributing to society, and adhering to responsible corporate governance and compliance.
We strive to be a company that satisfies its customers' needs by "Dreaming Together" and by offering "New Lifestyles".
Your continued patronage will be greatly appreciated.